Our 2023 Annual Meeting will start on Wednesday, October 25 and run through Friday, October 27, at the Oklahoma City Bricktown.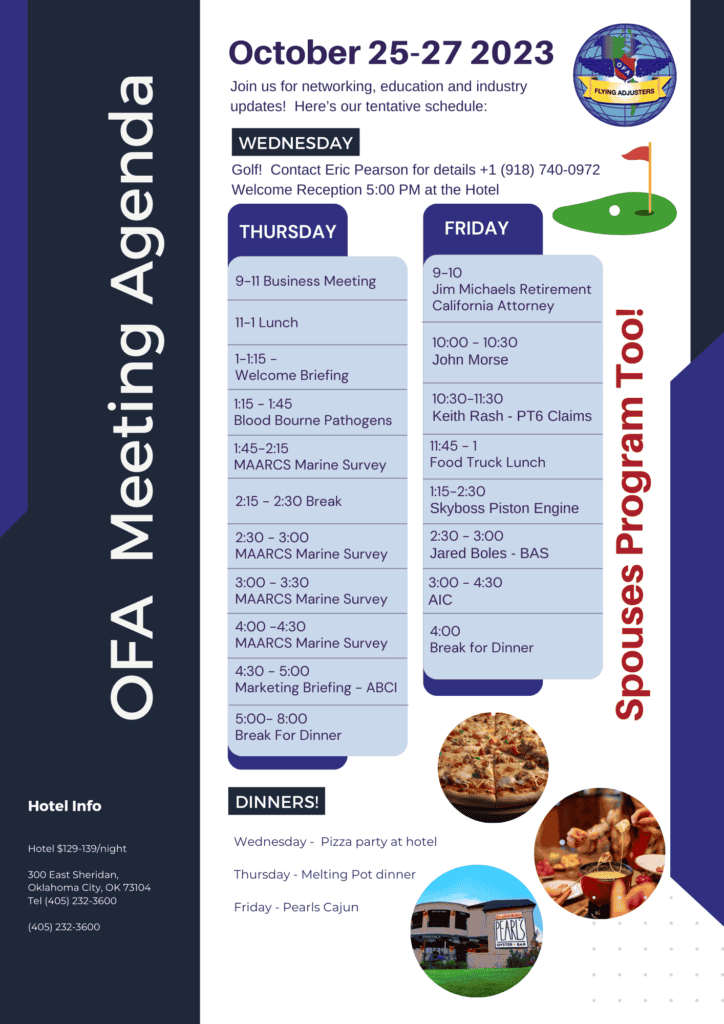 OFA Agenda-1
Tentative Spouse Program!
Flexibilty is key with Oklahoma weather!
The mornings are planned and booked. The afternoons are are going to be a menu offering again based on weather and group interest.
🚐  We have a great driver lined up this year again!
Thursday
9:00 AM –  Meet in lobby for van rides to National Cowboy museum guided tour
Lunch – Local options to be decided on by participants
Friday
9:00 AM  meet in lobby for van rides to Express Clydesdales guided tour
Lunch –   local options
Coming back closer to the hotel for afternoon affairs – Planned river boat cruise and tour of Bricktown Area one of the days good weather permitting.
🌸 Myriad Botanical Gardens
📝  Oklahoma History Center
🍷  The Study Wine Tasting
Member Highlight Interviews
ABCI will be interviewing members on video for Member Highlight features.
Questions we include in the interview:
Please introduce yourself! (Your 30-second sales pitch)
Tell us about your experience and what makes you different from other people in your niche or market.
What does your ideal client look like?
(If someone were to refer the perfect client for you, tell us about that perfect referral would look like.)
How did you first learn about OFA?
Any favorite stories about OFA?
Any advice for someone that is considering OFA membership?
Hotel
We'll be staying at the Hampton Inn & Suites.
Hotel $129-139/night
300 East Sheridan,
Oklahoma City, OK 73104
Tel (405) 232-3600
Click to schedule your hotel room